"Haftelwald" Reforestation Project
ECA initiator and climate activist Utz A.-Thorweihe has launched a new project to create benchmarks for sustainable renaturation: the Haftelwald. Starting this year, a deforested area near the German-French border will be reforested as a "food forest". This project offers interested parties the opportunity to acquire sponsorships for their own trees, to take part in local training courses in the adhesive forest on climate protection and renaturation in times of climate change – or to organise nature-oriented and informative events with the company.
Impressions from the inauguration party
Thanks to:
the almond trees for showing their best side
Albrecht, for saving us just in time like always
Hadi Bou Hassan and his incredible Students, who helped to make a big difference!
René und Nicol for unrestless tree planting
Jean Michel und Susanne for reciting in the wind
Dominique, the marvolous priest from Alsace, for sanctifying the "Haftelwald"
the Raschér Orchestra for its unforgettable performance on the field
Frank Fath for his calligraphy on our stone found the night before inauguration party
Sandra for her impressive photos
Raphaela und Leander for the opulent and sytlish buffet
First preparations for the HaftelWald Forest
On 27th and 28th June of 2020 the active supporters of the Europeans for Climate, with the help of the consultants of the management consultancy Maiconsulting, completed the first important preparations for the tree planting on the Haftel forest site. Since the terrain is slightly sloping and has different degrees of humidity, different tree species with suitable requirements for location and soil moisture are to be planted on the site. To facilitate this, the terrain had to be carefully measured and the plots for each tree had to be staked out. The first trees and protective bushes will be planted in late autumn 2020. We will post all news here on the website.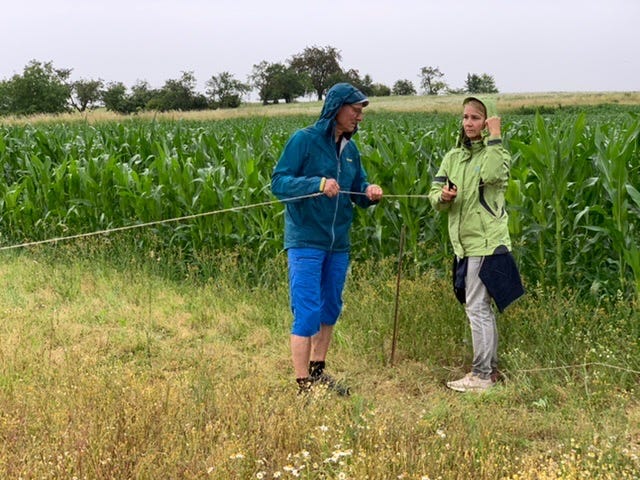 Measuring the HaftelWald field
3. Module "Paths to a climate-neutral economy"
Surroundings of the Haftelhof, Schweighofen
Participants of the Europeans for Climate measuring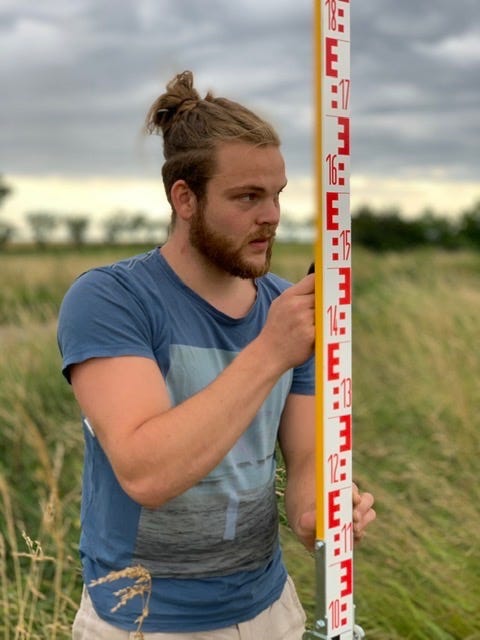 Measure the contour lines